Reforestation in the Taunus: Brombach​
The entire forest area in the Taunus around Frankfurt and Wiesbaden is a valuable local recreation area for everybody living in the Rhine-Main area.Young and old people spend their time in the forests, for example, to hike on the weekend. The forest is in pretty bad condition. You can easily recognize the damage that the heat and drought periods caused in the last few years. Therefore, the forests urgently need our support. Reforestation and afforestation are very important and urgently needed to replace the lost spruce stands with new, climate-resilient mixed trees.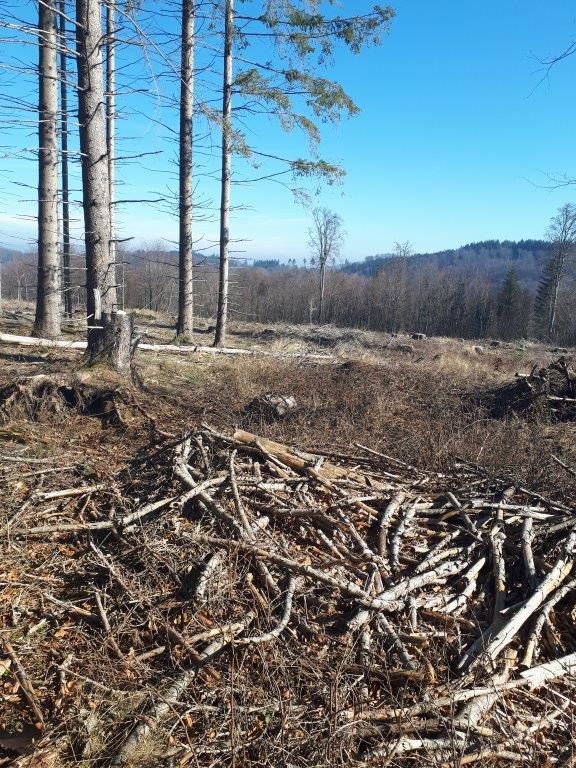 Brombach: local afforestion near Frankfurt
Of course, we continue with our activities to reforest the forest in the Taunus. Our new tree project belongs to the Königstein forestry office in the Brombach forest district near Seelenberg/Schmitten.  This forest area is located in the middle of the Taunus, near Frankfurt. It's really sad to see the large-scale forest areas that have been lost due to natural changes. That's why it is more important than ever to now keep the work up and plant millions of new trees. Be part of it!
Location: Brombach district, northwest of Seelenberg/Schmitten, Taunus, Hesse
Size of area: Individual area from approx. 0.6 hectares for every 1,000 trees
Afforestation of the damaged areas with climate-resilient tree species: sessile oaks, beeches, white elms.
Responsible forest office: HessenForst, Königstein forest office, Brombach district
The total size of the damaged area in the forest district is 230 hectares. The forest owner will plant around 40,000 trees here himself in the 2023 season.
For your information: A tree planting campaign with employees is unfortunately not possible in this specific area. However, we are happy to find another forest area for you and your team and plan it individually.
Sponsors of this tree project
Pictures of the afforestation area B in October 2023
The weather conditions have been really great since planting, so that the seedlings have grown well and are already sprouting properly.
Pictures of the afforestation area A in December 2022
Pictures of the afforestation area in October 2022
Are you interested in a tree sponsorship for this tree project or do you have any questions? Then we look forward to hearing from you.