Tree Packages for Festivals
Celebrate a festival, have have fun, and contributo to climate protection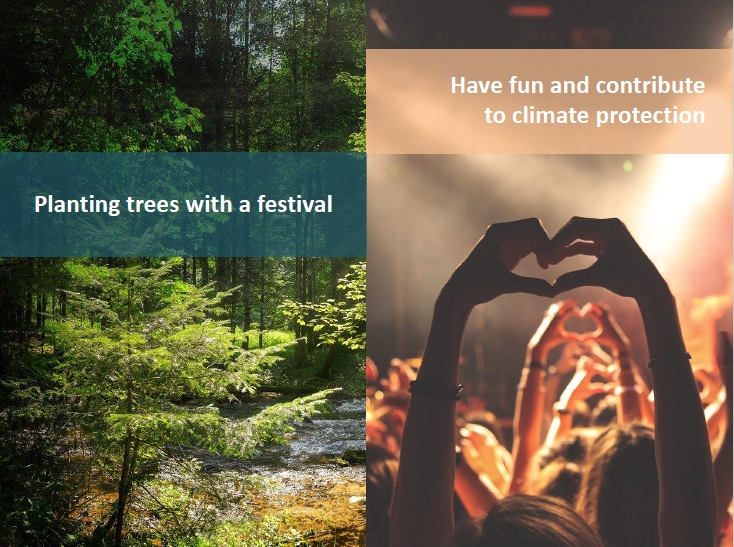 Sustainability is becoming more and more important to any event. When you organize a festival, you now can make it possible that your festival will contribute to climate and environmental protection. All you have to do is link your offer to a tree package. That's all.
When you a supplier to the festival industry, you can also combine a tree package with your services.
You determine the size of a tree package.
You define what you associate with a tree package.
You decide whether it is a compulsory contribution or a voluntary benefit.
The size of a tree package can be based on the overall size of the event, it can be addressed to exhibitors only, or it can be linked to every festival ticket.
Exciting festivals are the result of the interplay of different trades and offers, which all together enable a sensational experience. Each individual aspect costs natural resources and may consume a lot of electricity, which is not always green. This causes high CO2 emissions. Furthermore, think about all the disposable waste and the rubbish that comes together during a festival. Both of these cannot be easily avoided. Not celebrating festivals is not an option either.
Taking sustainable offers into account is a major challenge in implementation. Finding and considering sustainable measures cost a lot of time and money. But the climate doesn't wait. Therefore, tree packages help you in an easy way to give something back to nature while your festival participants celebrate and have fun.
Examples
There are various options for combining a tree package with aspects of a festival. Here are a few suggestions:
1x festival = 1,000 trees
1x stage = 250 trees
1x trade / team / band = 20 trees
1x exhibitor = 10 trees
1x ticket = 1 tree
Best Practice: 1 Ticket = 1 Tree
The best solution is to link each ticket with one tree. In this way you can oblige each individual or give them the opportunity to contribute to environmental and climate protection quickly and easily.
You include a tree in every ticket.
You offer a green festival ticket with a surcharge, either as the only ticket option (then everyone pays a contribution for a tree) or you offer as a supplementary, new ticket as a voluntary option.
You connect the trees to a ticket and a company sponsors the trees. In return, he receives an advertising space, e.g. on the ticket.
Of course, you can also consider several trees per ticket, only a partial amount for e.g. 1/2 tree, or a fixed amount in cents or euros per ticket.
Here some examples:
Ticket price (normal) = 100 euros
Ticket price (1 tree / partially included) = 100 euros
Ticket (proportional contribution / surcharge) = 105 euros
Add-on (voluntary) to ticket (normal) = 15 euros
New: Green ticket (1 tree / surcharge) = 115 euros
Tree flat rate for drivers
You can also use a tree package for any participant who comes to the festival by car. We create the tree packages for you in our tree shop (website), which your festival visitors can access directly, e.g. via a specific URL or a QR code. 
You will also receive a tree signet from us. You can embed this into your website and show how many trees you are planting or how high the CO2 equivalent is. That is the amount of CO2 that is permanently bound by the trees.
Collaboration
There are various ways how to collaborate with us. If you generally like the idea of combining your festival or your festival-related services with an environmental contribution, then please don't hesitate to contact us. We will definitely find a very creative, beautiful and sustainable solution.